Mary MacSwiney (1872 - 1942) was born in London on March 27, 1872. She was the oldest of seven children born to a staunchly separatist father and English mother. At age seven the family moved to Cork in 1879 where her younger brother Terencewas born.
Have you listened to our podcast? Get the latest on our Episode Page.
Mary suffered from poor health as a child. Among other ailments, she suffered a foot amputation as a result of an infection. Her education was delayed as a result but she completed school at age 20 in England and went on to work as a teacher on the Isle of Wight. On the death of her mother in 1904 she returned to Cork to head her family household.
The MacSwiney household was a politically engaged space. Mary's initial involvement with politics was driven by her support for the suffragette movement. By 1914 both her and brother Terrence had become more involved with radical republican politics with enrollment in the Irish Volunteers and foundation of a branch of Cumann na mBan respectively.
Cork would not play a significant role in the 1916 Rising, despite that, both Mary and Terrence MacSwiney were arrested and imprisoned along with many other Irish nationalists. Mary would lose her teaching job as a result of her imprisonment. Along with her sister Annie, she responded by founding a girls' school, Scoil Íte, modeled on Patrick Pearse's Dublin-based St. Enda's School.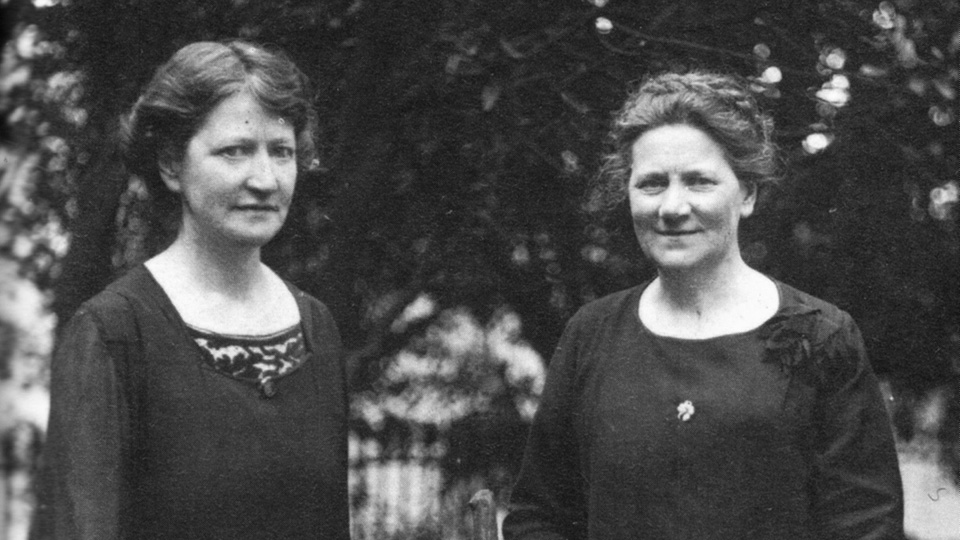 From Left to Right: Annie  and Mary MacSwiney
Mary's brother Terrence would endure multiple imprisonments at the hands of the British government during the Irish revolution. He became Mayor of Cork in March of 1920 and subsequently was arrested again. In protest, he went on hunger strike and endured 74 days before succumbing to starvation in Brixton Prison. The strike focused immense sympathetic international attention on the Irish conflict and in 1921 Mary along with her sister-in-law Muriel MacSwiney went on a successful fundraising and propaganda tour in the United States.
On her return to Ireland, Mary, representing Sinn Féin, was elected to the Dáil where she opposed the Anglo-Irish Treaty. She would continue to be elected to the Dáil through 1927 but abstained from taking her seat in protest of the Treaty. Sinn Féin would ultimately split over the issue of abstention resulting in the formation of the modern-day party of Fianna Fáil was formed under the leadership of Éamon De Valera who opted to discontinue the policy of abstention. MacSwiney opted to remain with Sinn Féin and was increasingly marginalized from a political perspective and continued to supported the armed republican resistance of the IRA for the rest of her life.
She died on March 8, 1942, at the age of 69. Her sister Annie, refused De Valera's offer to attend the funeral. Her grave can be found at St Joseph's Cemetery, Ballyphehane, Co. Cork.
Mary MacSwiney Grave Stone Inscription